Images part of the collection and distributed by Daniel Castonguay Studios (DCS) & D Gallery, are processed in a laboratory established in Montreal for more than 30 years. Using the finest pigment printing technology with a rated lifespan of 150 to 200 years, works are rendered on
Hahnemühle Photo Rag®
Ultra Smooth Matt 308 gsm, 100% cotton, Fine Art archival paper. Prints are produced on a
HP DesignJet Z9+ dr
device, using original pigmented inks from Hewlett-Packard.
Prints come in limited edition of 5, with no further reissues.
Each print in limited edition is
accompan
ied by a certificate of authenticity written in english or in french and signed by the artist. The certificate is provided with a tamper evident polyester holographic seal with a serial number. The seal also sits on the back of the work as well as an authentication stamp signed by the artist.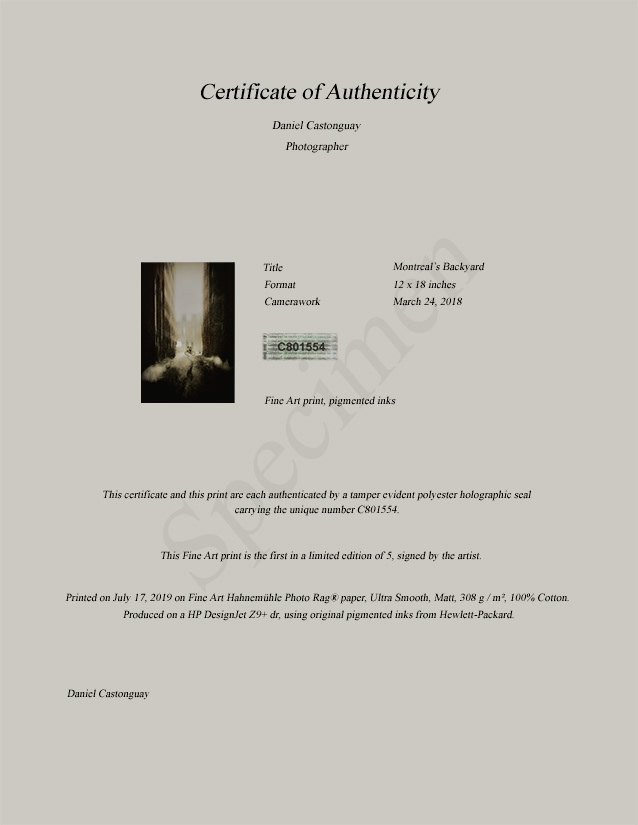 A duplicate of documents of authenticity is kept in the vault of the Montreal DCS headquarters, to ensure traceability and thus exclude any possibility of counterfeiting, confirming the origin of the work in the event of a print resale or an audit.
Prints are carefully packed and shipped in a securely sealed flat box instead of a roll, thus avoiding any deformations or crumples. Prints are shipped worldwide.
Print formats are from 12x18 up to 36x54 inches (30x45 up to 90x135 cm).
You can get in touch for pricing, art dealers and shipping details.​​​​​​​